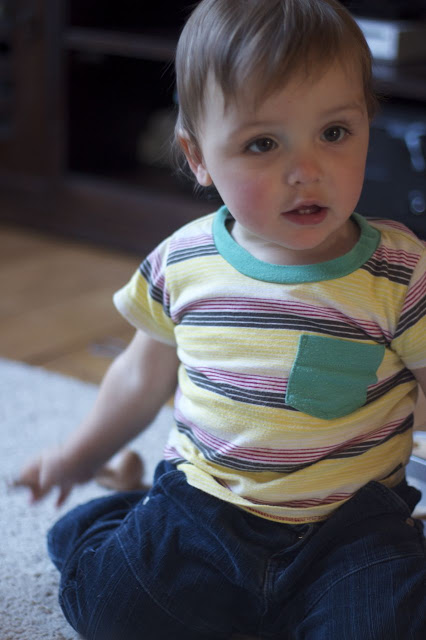 It's hard to believe that a whole year has passed since we welcomed our beautiful baby boy into the world, and yet it's hard to imagine a world without our sweet little man.
Jacob, words cannot begin to express how much you have enriched all of our lives. We have simply loved watching you grow during this last year, watching as you learn new skills. At 1 year old your personality is really starting to shine out.
You beam at us when we go into your room in the morning, you reach out for cuddles, you wave goodbye and love to clap along to your favourite songs.
You dance, you bounce, you crawl at lightening speeds. (The rapid thud thud thud as you crawl through the house to find me has to be one of my favourite sounds in the world!)
You splash (boy, can you splash!), you blow bubbles, you shout with glee.
You giggle at your sister when she's being silly, and she giggles back, and you giggle back, and she giggles back, and... well, you get the idea). You call to each other through the door when she's still in bed and you're up. You smile with delight when she plays with you, and you cry when she gets bored and hits you over the head - but you're always so pleased to see each other. Oh and you give each other bedtime kisses with mouths wide open, laughing all the while!
You are getting so dexterous, you have no problem fitting pegs in holes and you can build towers 3 blocks high all on your own! You love posting things, but if you could stop posting them into the central heating ducts that would be great! You will pick up a hairbrush and brush your hair. You copy Ella when she's brushing her teeth. You hold the phone up to your ear and smile with absolute delight when you hear your daddy's voice. You love to hammer and you love to empty a box and then put everything back.
You are such a chilled out little man, so relaxed and happy. So curious and enthusiastic about everything. You're into everything and very determined - you get so cross if we try to stop you from exploring something new (such as the toilet!) But above all else you are sweet and affectionate and loving, gentle and thoughtful and we love you so very dearly.
Happy first birthday darling boy.